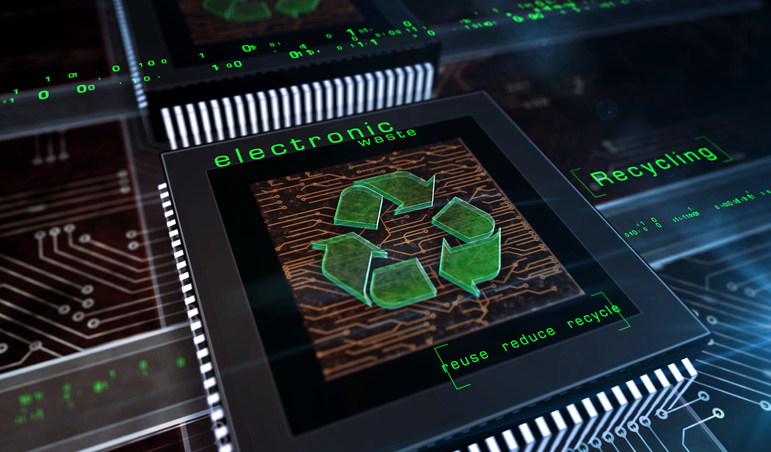 Introduction
Electronic waste, or e-waste, is a term for electronic products that have become unwanted, non-working or obsolete, and have essentially reached the end of their useful life. As per E-waste Rule 2016, the E waste is defined as electrical and electronic equipment, whole or in part discarded as waste by the consumer or bulk consumer as well as rejects from manufacturing, refurbishment, and repair processes. E-waste contains many valuable, recoverable materials such as aluminum, copper, gold, silver, plastics, and ferrous metals. In order to conserve natural resources and the energy needed to produce new electronic equipment from virgin resources, electronic equipment can be refurbished, reused, and recycled instead of being landfilled
E-waste also contains toxic and hazardous materials including mercury, lead, cadmium, beryllium, chromium, and chemical flame retardants, which have the potential to leach into our soil and water.
Recycling of E-waste
The company has tied -up with Hulladek Recycling Pvt Ltd, an authorised PRO for safe disposal of E-Waste collected from all over India. As a part of agreement, Hulladek Recycling Pvt. Ltd. will collect all our e-waste generated from PAN India and dispose of the same. Our PRO will do self-collection and channelization of E-Waste PAN India . Hulladek Recycling collection centres have been mentioned below. The material collected by Hulladek Recycling will be channelized to their recyclers/dismantlers, Eco Birdd Recycling Company Pvt. Ltd., Pegasus Waste Management Pvt Ltd., Green Era Recyclers, Techeco E-Waste Namo LLP, Justdispose Recycling Pvt. Ltd.& Threco Recycling LLP having a total capacity of 2500 MT per annum for recycling/dismantling. Customers can reach our office, call, or email us. The representatives will explain about the process of disposal and make them aware about the nearest drop point available to drop the e-waste. If any customer wants to handover the material from their doorsteps, we can send our logistics team to collect the items and channelize the same to our e-waste partner plant for final processing.
BRIEF ON GENERAL SCHEMES OF COLLECTION
Buyback
We plan to collect the E-waste from the bulk consumers, individual consumers and resident associations with the help of the PRO. These individuals and organisations will be intimated through emails about the whole process. We also plan to install collection bins at various residential associations and organisations so that consumers can dispose of the e-waste in such bins at their own convenience over a period of time. They can also call up on our toll-free no. and we will coordinate with them in buying back the materials. We will provide them with an incentive for the materials they dispose of with us
Exchange and Coupons
Under the special collection scheme, we also plan to issue 1% Discount Voucher to the customers who will return the EOL products to us. This exchange facility will be offered to every customer. The discount amount being Rs. 1000 (maximum) depending on the quality of the old product. Customers can redeem this voucher on their future purchases from our company.
APPEAL TO OUR CUSTOMERS
In the event of disposing off your products which have been imported by us, you may kindly call us at our Toll-Free Number 1800-212-7880, from 10am to 7pm (All Days Except Sunday) for assistance. You can also send the material to the below mentioned address (collection centres) of our logistics partner, Hulladek Recycling.